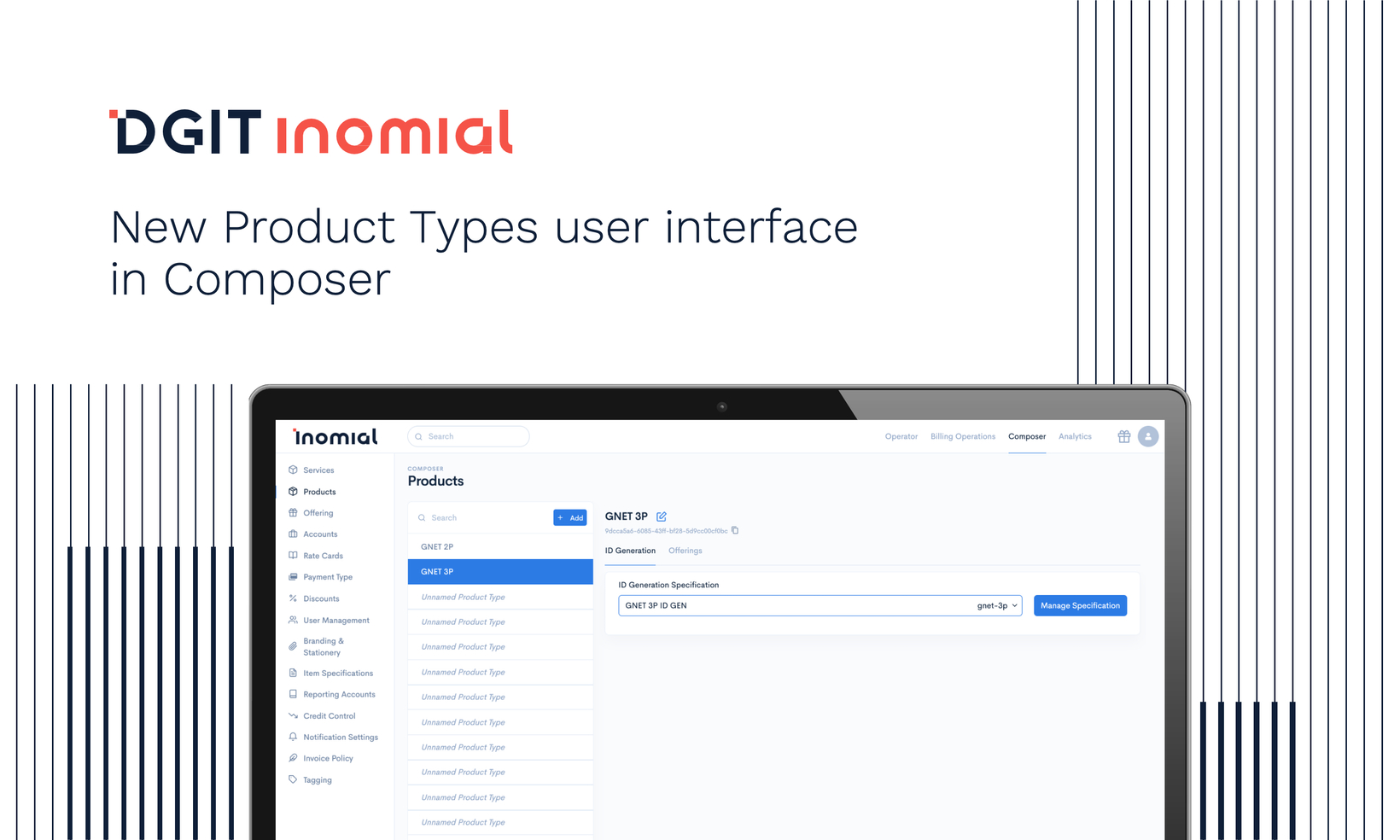 DATE:

AUTHOR:

The DGIT Systems team

RELATED ROADMAP ITEMS:
New Product Types user interface
DATE:
AUTHOR: The DGIT Systems team
As part of our work to integrate Inomial with our order management platform Telflow, we're introducing the concept of "product types" to Inomial.
A product type is a template for capturing information about a product. A product generally has several attributes – for example, a broadband product might have several bandwidth options – and a template allows us to record which attributes a customer has purchased as part of their subscription.
In DGIT's order management platform, Telflow, we use product types (also known as "specifications") to capture information from customers when they place an order. Adding product types to Inomial is a major step towards integrating the two platforms by ensuring they each have a concept for capturing product information. This will enable products ordered in Telflow to flow seamlessly through to Inomial for billing.
In Inomial Composer, you'll now find a new UI called "Products" which is where product types can be configured. Currently, the Products UI enables Composer users to do the following:
Create a new product type
Specify the format for a product ID (e.g. PRD00000202)
View offerings associated with product types
The screenshot below shows the new Products user interface in Composer, with a list of product types on the left and the configuration for the product spec shown on the right.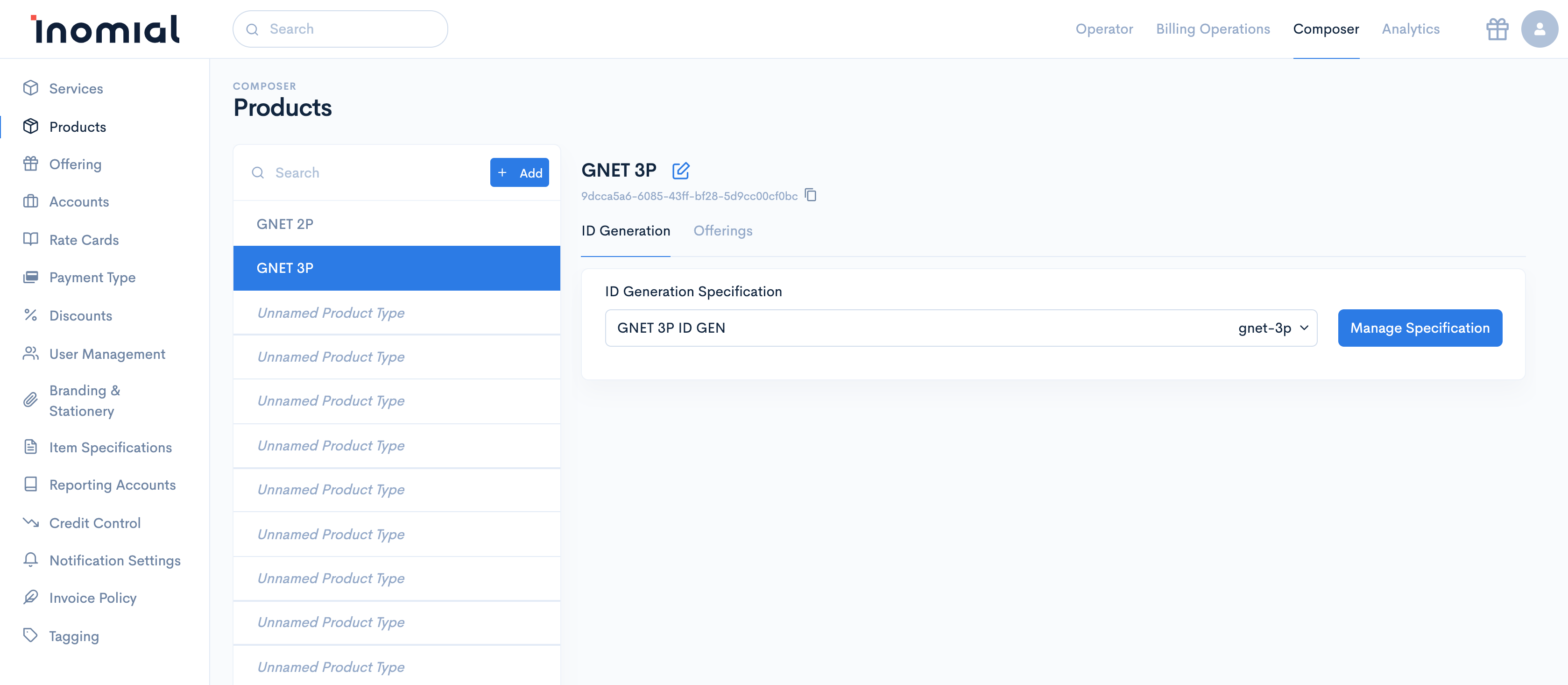 In the "ID Generation" tab, you can set options for the IDs that are dynamically generated for each instance of the product type that is ordered by a customer – for example, you can specify that you want the ID to have a specific prefix (e.g. ORD) and suffix (e.g. AUD), and a minimum or maximum number of digits.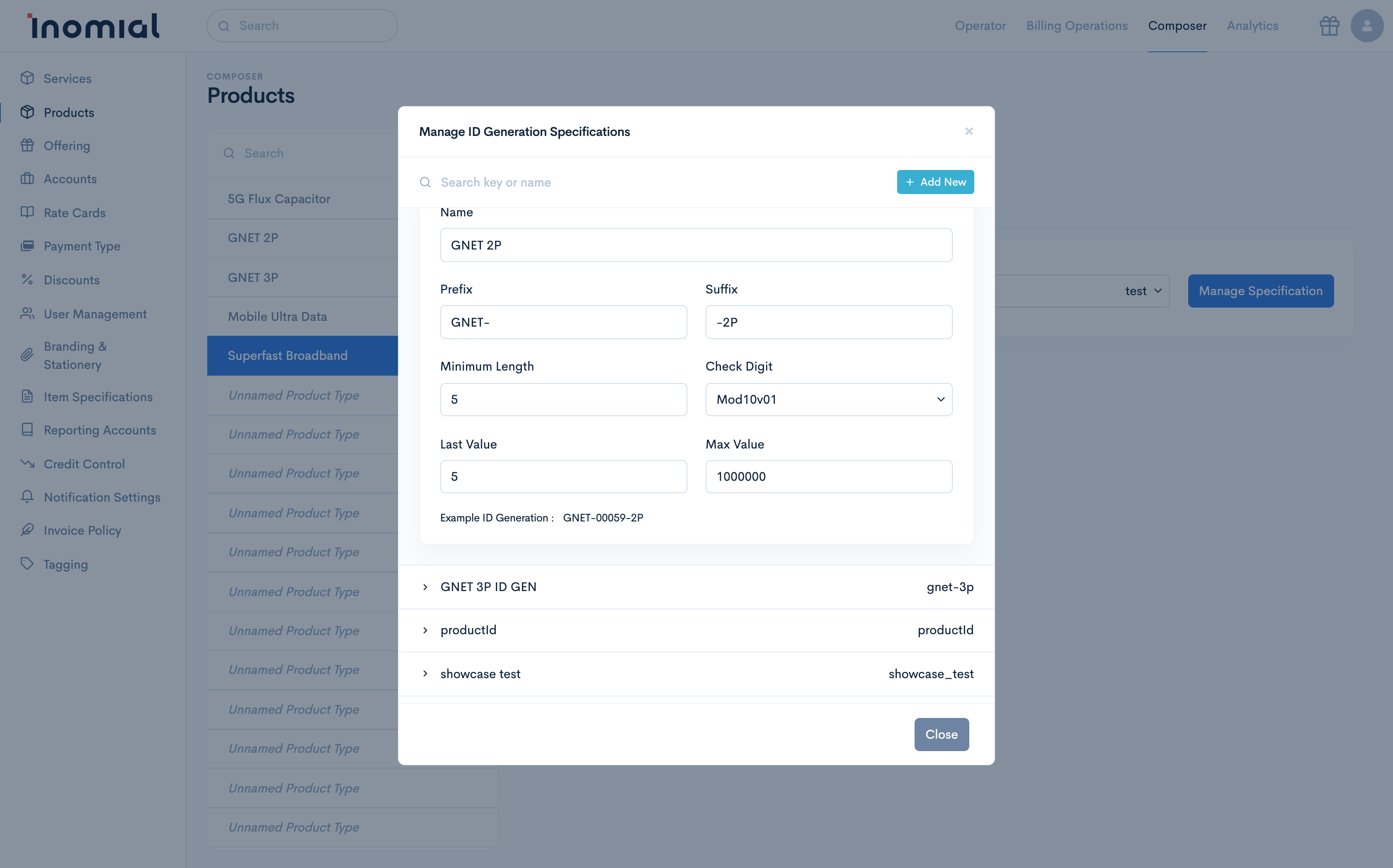 In the "Offerings" tab, you can view any offerings that have been associated with the product type, as shown in the example below. (To associate a product type with an offering, you'll need to use the "Offerings" user interface which is also in Composer).

We'll be adding more features to the Products user interface in Composer over the next few months, so stay tuned for further updates.
Rollout of new features
The Products UI is currently in the Preview release stream for selected customers. We expect this item to move into production around Wednesday 27 October 2021.
If you want to provide feedback or if you find a bug, now is the time to reach out – depending on where you are in your solution implementation lifecycle, you can get in touch with your account manager, your DGIT Professional Services contact, or Inomial Support.