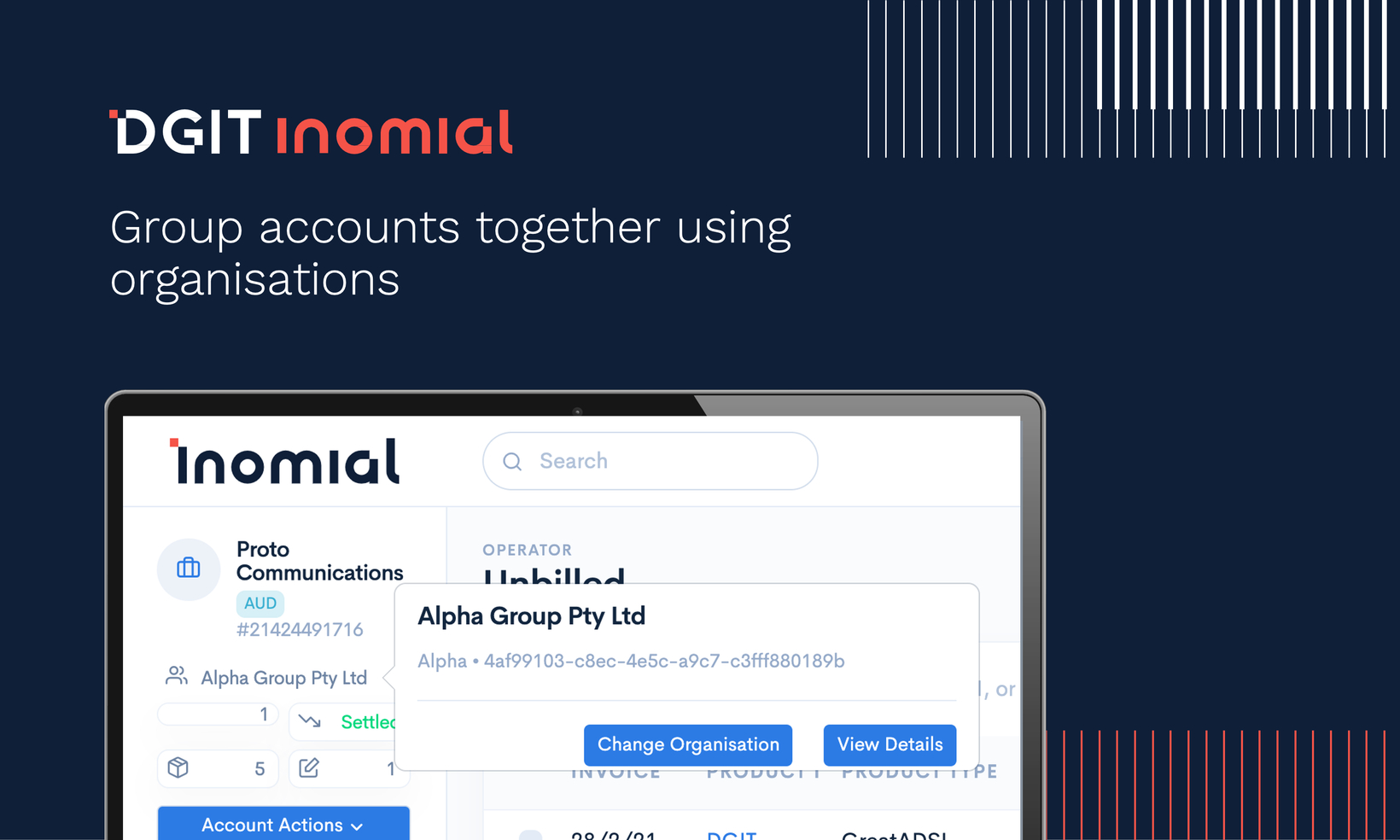 DATE:

AUTHOR:

The DGIT Systems team

RELATED ROADMAP ITEMS:
Group accounts together using organisations
DATE:
AUTHOR: The DGIT Systems team
Operators can now view and edit groups of accounts, known as organisations. Grouping accounts together in an organisation is a great way to keep track of related accounts – for example, a corporate customer might have separate accounts for each area of its business, making it useful to group these accounts together so that they can be easily navigated to and tracked.
Introducing the concept of organisations is also a key requirement for seamlessly integrating with our order management platform, Telflow.
We've added the following features to support organisations in Inomial.
Organisation displayed on Account page
The Account page shows the organisation an account belongs to in the summary panel in the upper left.
Hovering over the account name shows the account name and ID in a popover window, with links to change the account's organisation and to view the organisation's details.
If an account has not been added to an organisation, you will see an edit button in this area where you can quickly and easily add an account to an existing organisation or create a new one.
The screenshot below shows the popover window that displays when you hover over an organisation name for an account.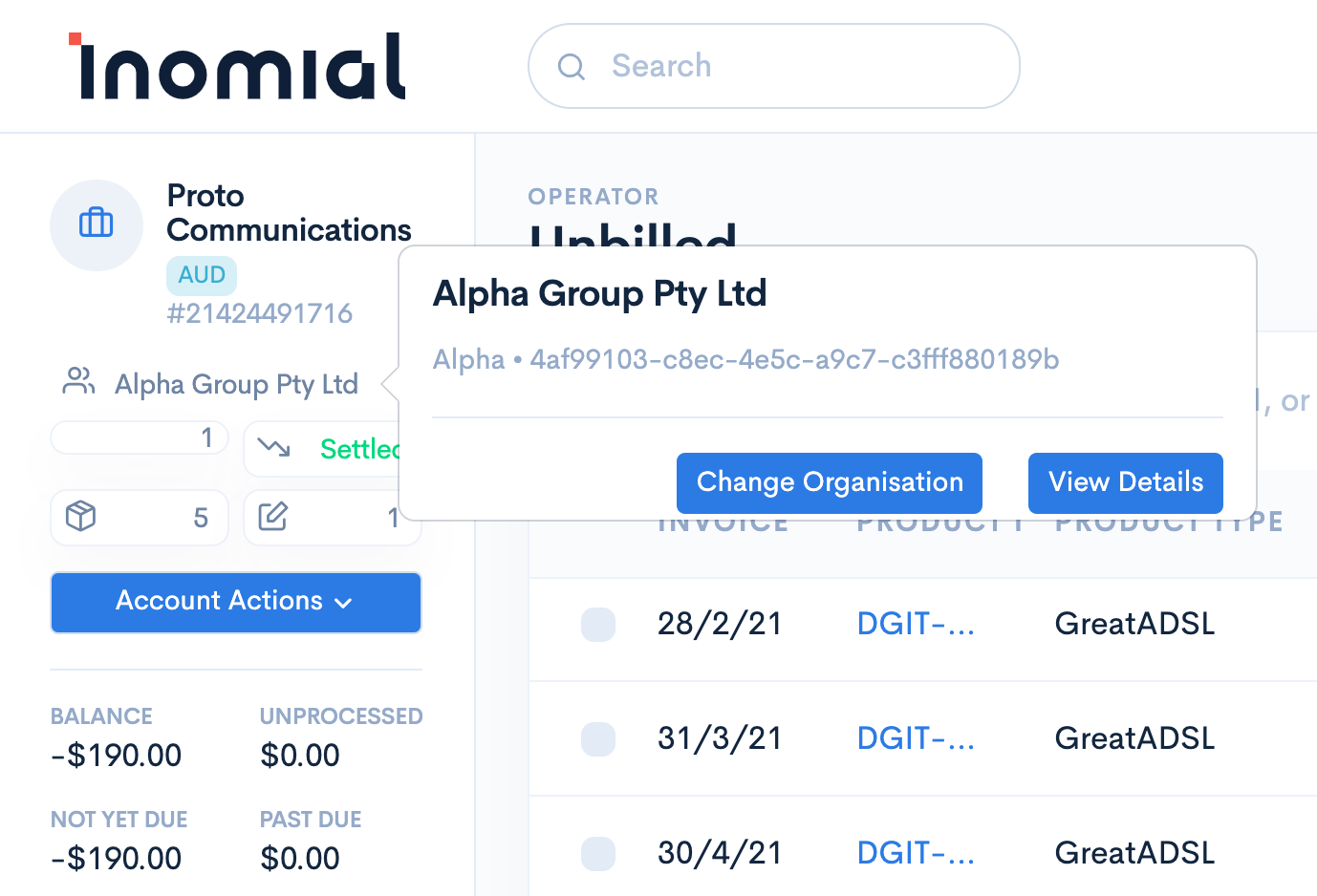 View and edit organisation details
From the popover window that displays when you hover over an organisation name for an account, you can click "View Details" to view or edit the details of an organisation. Clicking this button displays the new "Organisation Detail" window.
The details that are displayed include:
ID, Name and UUID.

The default account that the organisation is associated with.

A summary of all the accounts contained in the organisation, including account ID, name, balance, currency, and treatment level for each account.
If you click the "Edit" button that displays in this window, you can change the organisation's name or ID. To change the default account for an organisation, you can click the star button on the right.
From this window, you can also navigate to any of the accounts within an organisation by clicking the account name.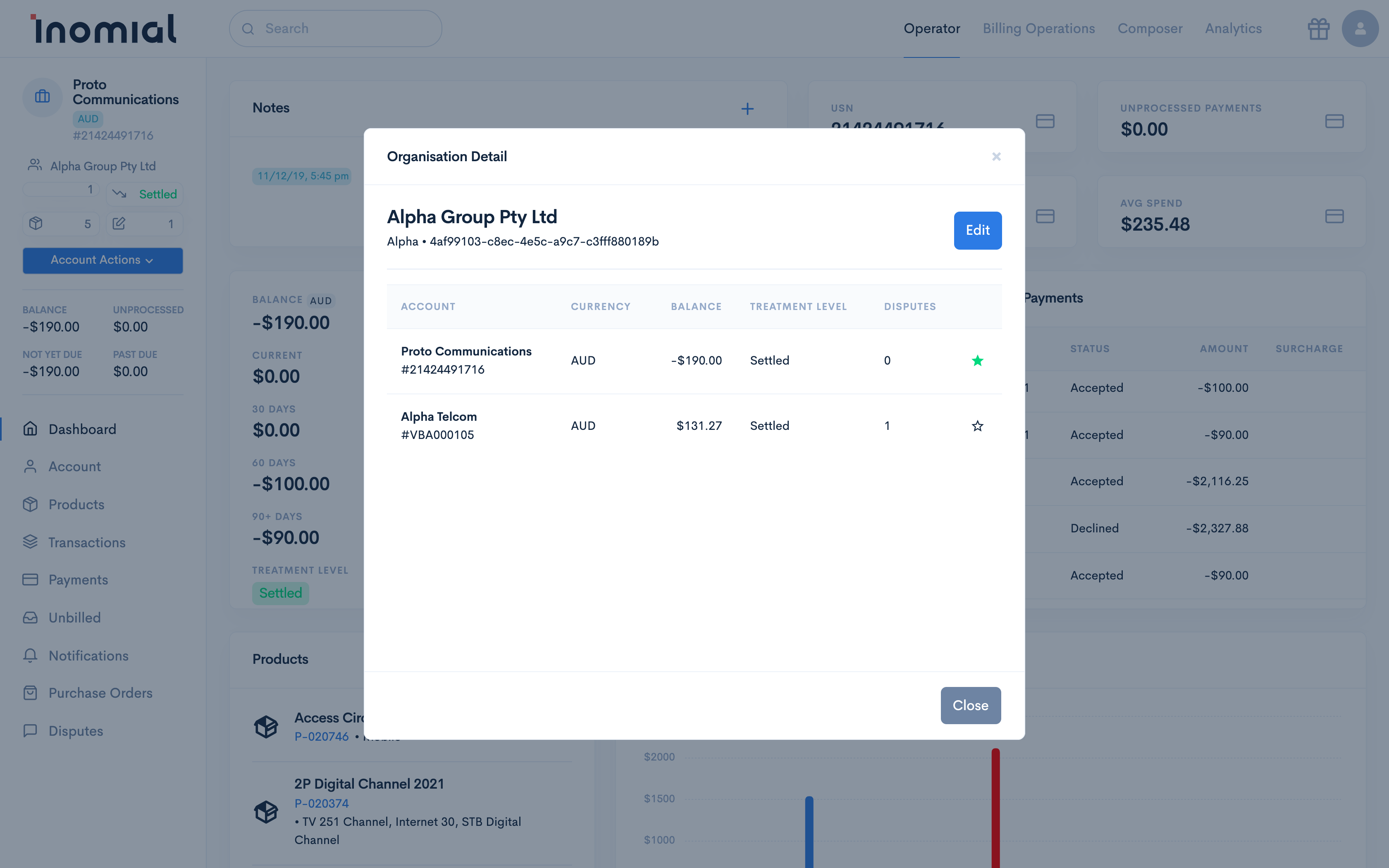 Create a new organisation
Operators can also create new organisations from the Account page. To start, hover over the organisation name and click "Change Organisation", or for accounts that don't yet have organisations associated with them, click the edit button on the right of the "No Organisation" text.
The "Change Organisation" window will display, and from here you can click "Create new" to create a new organisation.
Once you add a name and ID for your new organisation and click "Create and submit", the account will be added to your new organisation immediately.
Organisations in search results
The organisation for an account is now displayed against account matches in the main search bar, as shown below.
Rollout of new features
The new capabilities outlined above are currently in the Preview release stream for selected customers. We expect this item to move into production around Wednesday 16 February 2021.
If you want to provide feedback or if you find a bug, now is the time to reach out – depending on where you are in your solution implementation lifecycle, you can get in touch with your account manager, your DGIT Professional Services contact, or Inomial Support.